Get up to 80% funding for our pre-approved packages to adopt remote working.
To ensure business continuity during this COVID-19 period, IMDA is encouraging companies to allow employees to work from home. Syner-G is proud to be a pre approved vendor supporting companies in their digital transformation process to enable seamless communication and collaboration via cloud.
OUR COVID-19 SUPPORT PACKAGES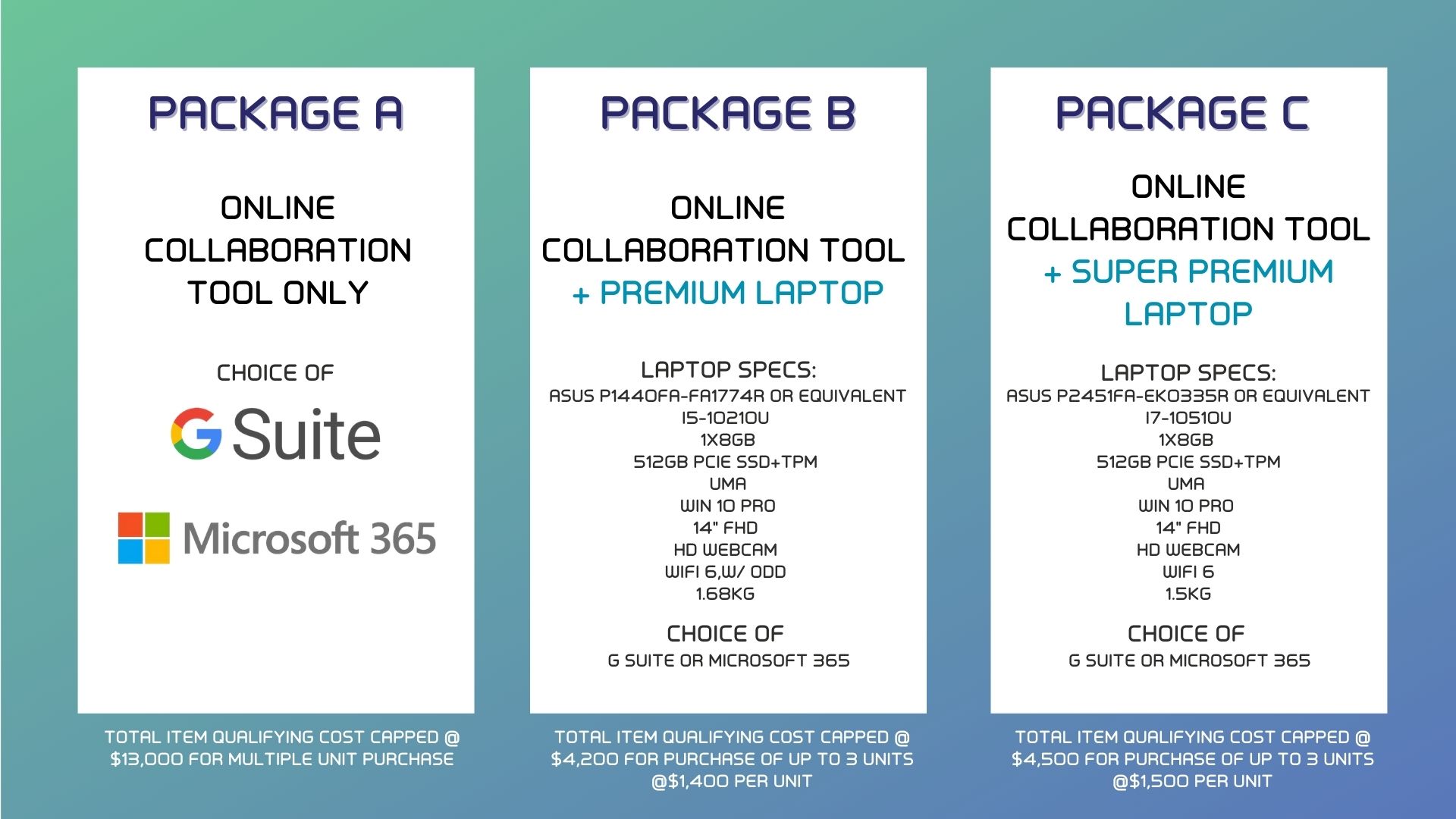 PSG x SYNER-G Online Collaboration Tool Interest Form
Thank you for your interest in SYNER-G's COVID-19 Online Collaboration package. Please note this form is not a purchase order confirmation. An official quote will be provided by us separately for you to submit in the Business Grant Portal for the grant application.
Please select the package you would like to receive a quote from us.
* These are pre-approved packages supported by the "Productivity Solutions Grant (PSG)" and prices are excluding GST.
How To Apply
Step 1
Fill up interest form below to select preferred COVID-19 Support Package
Step 2
Syner-G Technologies (pre-approved Vendor) will send you an Official Quotation
Step 3
With the Official Quotation from Syner-G Technologies, apply for the Pre Scoped Productivity Solutions (PSG) on the
Business Grant Portal.

Terms & Conditions
Eligibility Criteria
Registered and operating in Singapore
Purchase/lease/subscription of the IT solutions or equipment must be used in Singapore
Have a minimum of 30% local shareholding; with Company's Group annual sales turnover less than S$100 million, OR less than 200 employers (for selected solutions only)
Must not have:
Made any payment to a supplier, vendor or third party in relation to the purchase/lease of the equipment
Signed any contract with a supplier, vendor or third party in relation to the purchase/lease of the equipment
Funding support
Up to 80% of funding support is provided till 31 December 2020
Approval
Subject to eligibility and approval by EnterpriseSG


Drop us an email for a non-obligatory quote on our IT Managed Solutions.